Icynene Spray Foam
Icynene spray foam used by Quilter Insulation was developed over 25 years ago and is now available in 34 countries around the world.
What is Icynene?
Icynene is a soft and flexible open cell fully breathable spray foam insulation.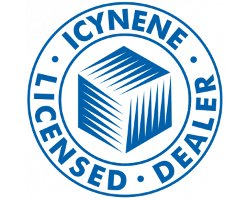 Applied as a liquid, Icynene® expands to 100 times its volume in seconds to fill every crack and crevice while remaining flexible so that the integrity of the building envelope seal remains intact over time. Icynene's spray formula has a thermal conductivity of 0.034 – 0.039 W/mK. It acts as a complete insulation and air barrier to minimize air leakage and seal the building envelope for optimal airtightness. Icynene can be used for attic insulation, cavity wall insulation, drylining insulation, roof insulation, sound insulation and more. It stays flexible and follows all movements of the building structure without cracking over time. Once installed, Icynene spray foam works for the life of the home.
High Quality Insulation
We work with numerous different types of spray foam within the Icynene range including, open cell, closed cell and medium density spray foams. Our most popular is Icynene Open Cell LDC50 which is the product that has made Icynene the World Market Leader in Spray Foam. This product has been used worldwide for over 30 years and in Ireland since 2004. Icynene LDC-50 is 100% water blown and 100% open cell containing no harmful chemicals, agents, HFCs, HCFCs or volatile organic chemicals. Icynene open cell is the most certified product on the market having achieved KIWA Agrément Certification to Irish Building standards , BBA and ETA approvals and certification. Icynene recently underwent successful testing and assessments and is the only foam in Ireland certified for application to the underside of breathable and non breathable roof membranes and felts.
We at Quilter Insulation install this certified product to New and Existing homes in accordance with Irish Building Regs and Agrément certification.
For more information about Icynene please visit their website.
Benefits
Save Money – Save on energy bills , Reduces heating and A/C size, Get better payback & resale
Be Healthy – Reduce dangers of respiratory distress, Minimize pollutants, Protect against mold growth.
Be Comfortable – Reduce drafts, Avoid hot and cold spots , Reduce noise.
Protect Your Home – Protect against moisture, Keep pests out, Retain structural integrity
Past Work
A mixture of images from Spray Foam Insulation projects we have completed in the past.